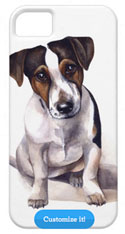 Jack Russell Puppy iPhone Cover
Gifts for Pet Lovers Featuring
Original Paintings by Joanna Culley
Welcome to my products and gifts for pet lovers website where you can buy a selection of gifts featuring my watercolor paintings of pet, including dogs, cats, horses and a few other more unusual pets. The website is a shopfront to the custom products eCommerce system by Zazzle. While the products all feature my designs and paintings all of the payment and production facilities are provided by Zazzle. This means that you have the reassurance of dealing with a big company, secure payments, quality and reliable production, while at the same time it allows access to a wide range of products that feature my watercolour paintings of animals.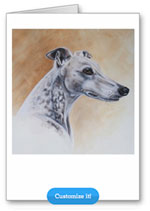 Customisable Greyhound Card
I hope that you enjoy browsing the gifts and products on the website and hope that you find something that you like. These paintings are some of my favourites from over the years of painting pet portraits and animals. Included in the designs are a number of my pets including my old Jack Russell Terrier, Teddy, who is no longer with us. You may also spot one of my hens, Sage and my horse, who I have had for more than 20 years, Kashmir. Remember, once you do click on the image and you will be taken through to the Zazzle store system where you can buy the product, and in some cases you can also customise to a more personal design!
Pet Lovers Gift Range
At the moment the range of gifts I am allowing my paintings to be used on is relatively limited, but expanding so there are mugs, bags, iPhone Covers, and a small number of poster and prints. You can browse by animal, or dog breed - nce you are on the Zazzle site you can continue to browse through my gift range on y Zazzle store - www.zazzle.com/petsinwatercolor.
I love to hear from people, so please use the contact form for any comments but remember I do not have anything to do with payments or fulfilment so please don't ask me any questions related to this as I won't be able to help.
Kind Regards
Joanna
Mugs | iPhone Covers | Cards | Bags
Error: Feed temporarily unavailable.