Gifts For Cat Lovers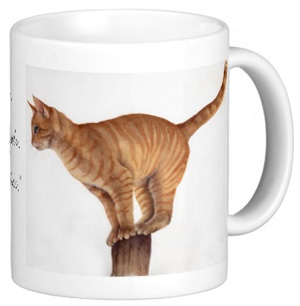 Ginger Cat Balancing on a Post Mug
Do you know someone who loves animals or has a very special pet in their life? To own a cat is a privilege, because as cat owners will know it's really the cat's house, their owners just pay the bills! Friendly or aloof, a cat still makes all the difference between coming home to an empty house or just coming home. Have you been wondering what to give them as a gift for their birthday, Christmas or perhaps just to make them feel special and brighten up their day? At Pets in Watercolor we think we might have just the gifts that tick the boxes for you. Why not give them a beautiful watercolor image of their own cat printed onto various products with a personalised message from Pets in Watercolor? Our cat gift themes originate from watercolour paintings by acclaimed artist Joanna Culley and contain the humorous to the fine art. Printed in vivid full color onto high quality mugs, phone covers and other gift ideas, they make the perfect gift for those special people in your life and are available from our on-line store. On the reverse of the mug there is a printed special message, proverb or some breed information. Or why not personalise the gift even more and add your own message?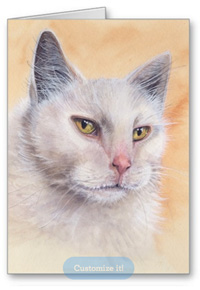 White Cat Greeting Card
We are offering our years of experience of painting cats in a realism style that captures breed characteristics, are painted to show a true representation of the breed and have a lifelike quality that is very appealing to any animal over. Even better our gifts with their original pieces of artwork, can not be found anywhere else apart from at our online store here, so making your gift very unique and personal.
Mugs | iPhone Covers | Cards | Bags |
Error: Feed temporarily unavailable.